GeckoLinux 210223.152 released, Linux distribution based on openSUSE
GeckoLinux derives from the openSUSE distribution, which is characterized by elegance and out-of-the-box accessibility for the desktop. The release features a number of desktop styles that can be installed from a self-starting CD. OpenSUSE default installation, there is some open-source software due to obstruction in the absence of patents, but they are included in the GeckoLinux.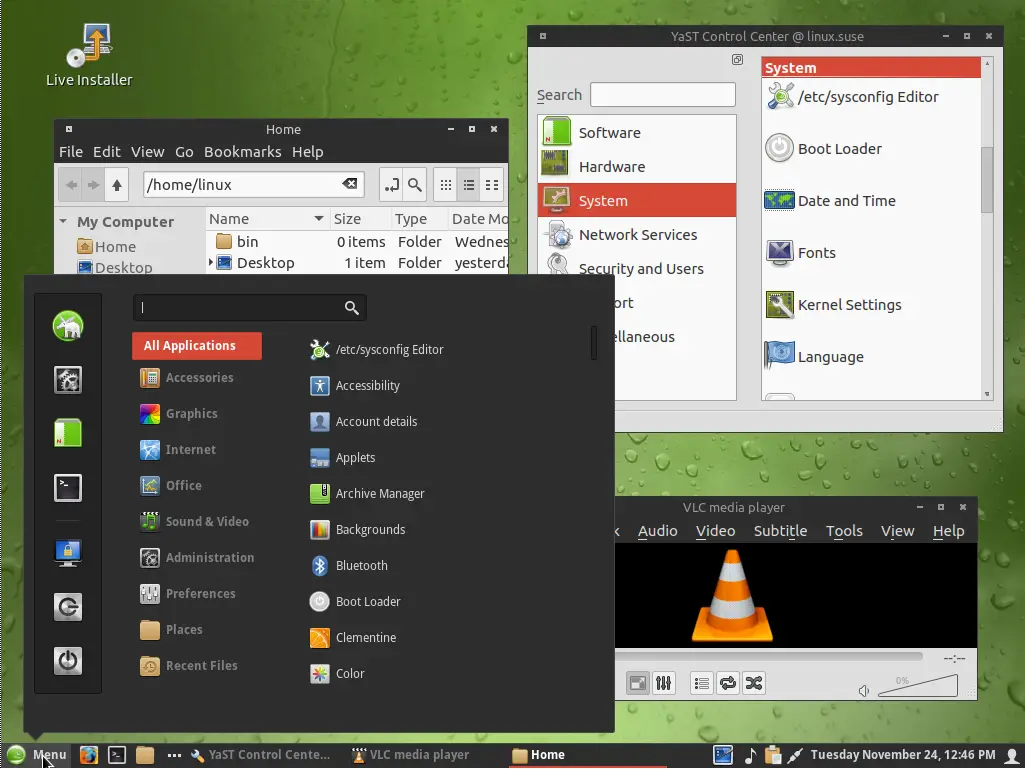 An installable live DVD / USB image based on openSUSE around 1GB in size
Individual editions for many different popular desktop environments with a pleasant default configuration
Carefully selected open-source desktop programs and proprietary media codecs pre-installed and ready to use
Beautiful open-source font rendering configured out of the box
Optimal power management with TLP pre-installed
Much more open source and patent encumbered software available in the pre-configured repositories
Uses the excellent infrastructure already in place for openSUSE, with no repackaging or modification of packages
An installed system can be smoothly upgraded to future openSUSE releases while retaining its unique GeckoLinux configuration.
GeckoLinux 210223.152 released. 
Changelog
GeckoLinux is pleased to announce the 152.210223 update to its full range of STATIC and NEXT editions. GeckoLinux STATIC spins are generated directly from unmodified openSUSE Leap 15.2 and Packman repositories, and the installed system can be updated directly from those official sources. GeckoLinux NEXT additions include newer versions of a specific desktop environment on top of the openSUSE Leap 15.2 base thanks to the inclusion of additional semi-official openSUSE repositories. GeckoLinux continues to be focused on eliminating pain points and polishing its unique out-of-the-box configuration on top of the stable and flexible openSUSE base. Proprietary media formats play out of the box, and additional user-installed multimedia applications work automatically with restricted media codecs thanks to the prioritized inclusion of the Packman repository. Proprietary hardware driver and firmware support has also been included as much as possible. Google and Skype repositories are also configured out-of-the-box for optional installation by the user of the proprietary applications from those vendors. Third-party RPM packages can be easily installed using the graphical YaST package manager. All GeckoLinux editions use the Calamares system installer, providing easy but powerful options for reliable installation of the live system. The Linux kernel included in this current set of GeckoLinux STATIC and NEXT ISOs is at version 5.3.18.

The GeckoLinux STATIC 152.210223 set of updates solves some minor issues with the GeckoLinux configuration in certain editions. All GeckoLinux editions now use the Xmodesetting driver on Intel graphics cards for improved stability. A variety of GeckoLinux ISO spins are available with polished desktop environments to suit every need and preference:

Plasma 5.18 / Framework 5.71.0 / KDE applications 20.04

Improved font legibility with main UI fonts colors changed to pure black
Fixed a bug causing delays in initial loading of desktop icons and notifications

Cinnamon 4.4.8

Improved behavior of Nemo desktop icons
Relocated mounted drives applet

Budgie 10.5.1

Improved behavior of Nemo desktop icons
Eliminated transparency from bottom panel for better visibility and contrast

XFCE 4.14
Gnome 3.34
Mate 1.24
LXQt 0.14

The GeckoLinux NEXT 152.210223 spins include the following desktop environments:

Plasma 5.21 / Framework 5.79.0 / KDE applications 20.12

Improved font legibility with main UI fonts colors changed to pure black
Fixed a bug causing delays in initial loading of desktop icons and notifications

Pantheon (various component versions)