Although Apple has released several small versions of iOS, there are still a large number of users in the social media and Apple support forums complain about the equipment power consumption surge or instability. From the three small versions of iOS 11.0.1 ~ 11.0.3, they do not seem to have a common incentive and can not be easily repaired. Previously, when Apple released a large version of the update, we never expected to encounter so many problems, such as the slow card, crash, and battery life greatly reduced. Look at the affected iPhone models and reports carefully, and there seems to be no common case in the new system.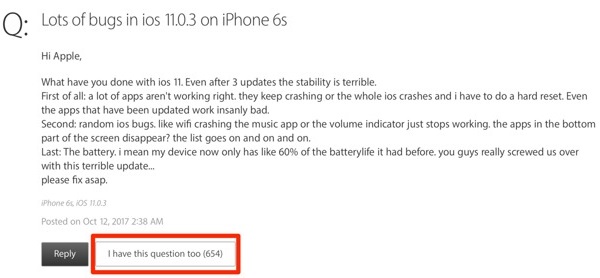 iOS 11 this bug almost swept all the iPhone models, such as the 2016 iPhone 7 series, but this year's new release of the iPhone 8 seems nothing problems.
iOS 11.0.1 ~ 11.0.3 This small version fixes some of the problems that plague some users, but with little success, it is estimated that they are mainly to solve the more important security issues and launched.
● Apple Insider has a staff of the iPhone SE also encountered a power-down bug, the initial experience of iOS 11.1 test version found that the problem has improved significantly.

● However, another almost at the same time to buy the iPhone SE owner said he went to iOS 11.0.3 have not encountered any problems.

● the same place a pair of iPad Air, two iPhone 7 Plus, and an iPhone 6s, also did not upgrade iOS 11 encountered acclimatized.

● Another editor of the first generation iPad Pro encountered serious problems of life, and the upgrade to iOS after 11, encountered the bug push notification between its iPhone SE and Apple Watch in.

● Also on both devices, Apple Insider editors found the general performance problems caused by the new system.
Having said that dilemma, we still have to disclose some positive elements.
In yesterday's report, YouTube channel iDeviceHelp were in the same three devices on the iOS 11.1 beta 4 and iOS 11.0.3 comparison test, the results showed that iPhone 6 Plus, iPhone 7 Plus, and iPhone 8 Plus battery life performance They are greatly improved.
I believe that with the arrival of the official version iOS 11, Apple was scolded badly let these problems will cease to exist.
Reference: appleinsider