SeaMonkey 2.53.6 released, all-in-one Internet Application Suite
The SeaMonkey Suite project is a community effort to develop the SeaMonkey all-in-one internet application suite (see below). Such a software suite was previously made popular by Netscape and Mozilla, and the SeaMonkey project continues to develop and deliver high-quality updates to this concept. Containing an Internet browser, email & newsgroup client with an included web feed reader, HTML editor, IRC chat, and web development tools, SeaMonkey is sure to appeal to advanced users, web developers, and corporate users.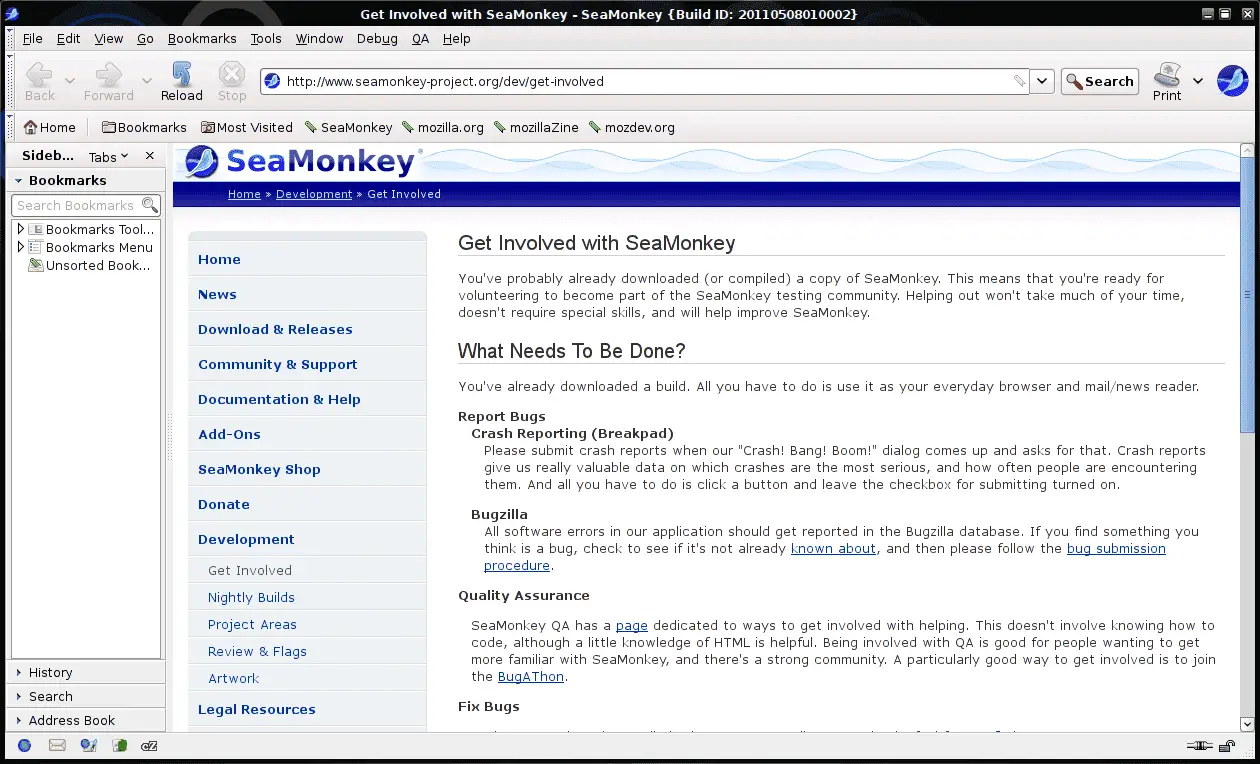 Features of the SeaMonkey
Browser
Sync allows you to keep your browsing history, passwords, bookmarks, preferences, and tabs in sync across different devices (computers) in a secure way.
Tabbed browsing gives you a better way to surf the net. You no longer have to open one page at a time. With tabbed browsing, open several pages at once with one click. Plus, your homepage can be multiple pages, in tabs. And if you mistakenly close a tab or window, functionality to Undo Closed Tab or Window helps you bring it back to continue working with it.
Session restore brings back all your open windows and tabs after the rare occasion that SeaMonkey crashes—and if you wish even when you close and reopen the browser or restart your computer. However, crashes should be rare nowadays because crashing plug-ins will no longer take the whole application down.
SeaMonkey's powerful Add-ons Management provides almost infinite possibilities to extend your Internet experience both through installing additional functionality created by others and even freely developing your own extensions and providing them to the rest of the SeaMonkey community.
SeaMonkey's unique Data Manager serves as a central management interface for all kinds of site-specific data, including cookies, permissions (e.g. image blocking), preferences, passwords and form data.
Lightweight themes (Personas) let you give your SeaMonkey a personal touch through simple theming. You can choose from thousands of Themes!
Feed detection notifies you when web pages offer RSS or Atom feeds, and feed preview lets you view their contents and choose a reader with which to subscribe to those—including an internal reader in the Mail & Newsgroups component of SeaMonkey.
Smart Location Bar enables you to search your visited web pages as you type into the browser's location bar and find what you want to re-visit as quickly as possible by learning which pages you visit frequently.
Popup blocker lets you surf the web without interruption from annoying ads.
Find as you type gives you another way to navigate a page. Just start typing to jump from link to link or to find a word or phrase on a page.
Safe Mode can help you solve problems that might occur, e.g. with incompatible add-ons. If you need to ask someone for support, the Troubleshooting Information page provides quick access to basic technical information.
Plus all the features a modern browser should have, including Advanced security settings, download management, web form autocompletion, themes, toolbar customization, multi-language and multi-platform support, plus support for the latest web standards.
Mail & Newsgroups
Tabbed Mail lets you manage your mail and folders in parallel, without losing control of where you're at when reading, replying to and working with messages in more complex patterns.
Junk mail controls help you take back control of your e-mail from spammers. SeaMonkey's adaptive junk mail control gets smarter with use and is personalized to the e-mail that you receive.
Manage your mail with customizable Tags and Mail Views. Color code your e-mail to help you prioritize. Filter your mail with views to help you sort through your e-mail much faster.
Multiple accounts support helps you manage all your mail through one interface.
Blogs & News Feeds is a reader for RSS and Atom feeds right in your messaging center that eases your reading of information from all across the web.
SeaMonkey Mail & Newsgroups includes enterprise-ready features such as S/MIME, return receipts, address books, LDAP support, and digital signing.
Composer
SeaMonkey's powerful yet simple HTML editor keeps getting better with dynamic image and table resizing, quick insert and delete of table cells, improved CSS support, and support for positioned layers. For all your documents and website projects, Composer is all you need.
IRC Chat ("ChatZilla")
Chat on IRC networks with this simple yet powerful IRC client. Multiple networks and channels are easy to keep track of in a familiar tabbed interface.
You can change the look and feel of the chat with motifs; choose from several built-in motifs, many more downloadable, or create your own with CSS.
Web Development Tools
DOM Inspector enables you to dig into the document structure of web pages, add-ons or even the SeaMonkey "chrome" itself and inspect a huge number of properties of any element in that structure, including JavaScript objects and CSS styles.
JavaScript Debugger ("Venkman") lets you debug JavaScript code on your websites, add-ons and even in SeaMonkey itself with a suite of powerful debugging tools.
SeaMonkey 2.53.6 releases.
Changelog
SeaMonkey 2.53.6 contains (among other changes) the following major changes relative to SeaMonkey 2.53.5.1:

Improve usability of multiple mailboxes/folders selectionbug 1600103.
Add Greek localisation (el).
Remove more RDF from mailnews code.
Switch to mozilla as topsrcdir and component for building is comm/suite now.
Rust support is now up to 1.48 and official build is now using 1.47.0
Various security and general platform fixes.

SeaMonkey 2.53.6 contains (among other changes) the following major changes relative to SeaMonkey 2.49.5:

The Bookmarks Manager has switched its name to Library, and now also includes the History list. When invoking History, the Library will be shown with the History list selected. The extensive modifications were needed because of Mozilla Gecko platform API changes.
Download Manager has been migrated to a new API. Although it looks pretty much the same as before, the search option is missing and some other minor details work differently. The previous downloads history is removed during the upgrade.
The layout panel was added to the CSS Grid tools.
TLS 1.3 is the default SSL version now.
The only NPAPI plugin which will work with SeaMonkey 2.53.6 is Flash. Support for other NPAPI plugins like Java and Silverlight has been removed. For displaying pdf files in the browser you can use pdf.js-seamonkey from Isaac Schemm.
SeaMonkey now uses a new api for formatting regional data like time and date. Default is to use the application locale of the current SeaMonkey build. If you use a language pack or a different OS formatting this is usually not desired. You can change the formatting from the application locale to the regional settings locale (OS) in the preferences dialog under "Appearance".

SeaMonkey 2.53.6 uses the same backend as Firefox and contains the relevant Firefox 60.8 security fixes.

SeaMonkey 2.53.6 shares most parts of the mail and news code with Thunderbird. Please read the Thunderbird 60.0 release notes for specific changes and security fixes in this release.

Additional important security fixes up to Current Firefox 78.6 ESR and a few enhancements have been backported. We will continue to enhance SeaMonkey security in subsequent 2.53.x beta and release versions as fast as we are able to.

SeaMonkey-specific changes

SeaMonkey now uses gtk3 on Linux. If you experience a problem because of this please file a bug and link it to bug 1367257. Please try another OS theme first. Some of them are buggy and cause problems with SeaMonkey, Thunderbird and Firefox.