OmniDB v2.16.0 releases: Web tool for database management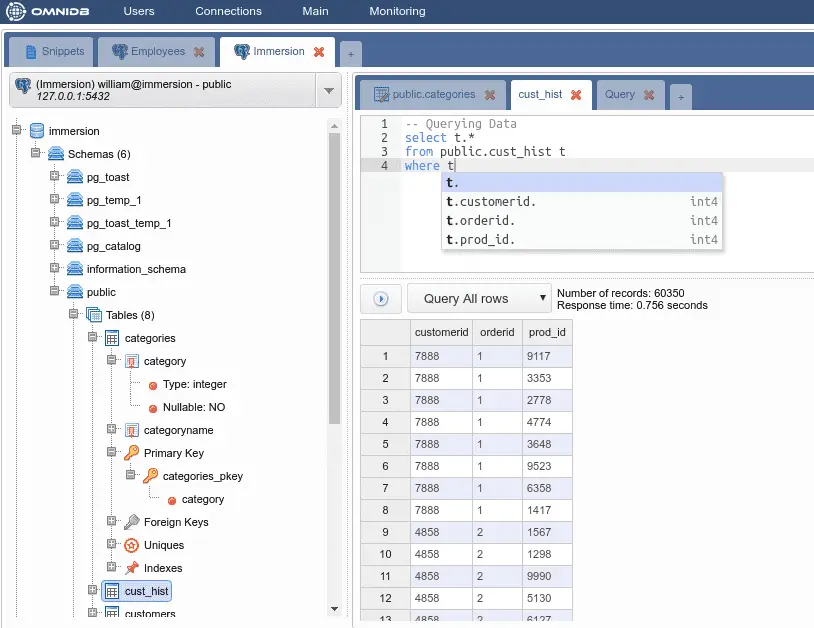 OmniDB is a web tool that simplifies database management focusing on interactivity, designed to be powerful and lightweight. Check-out some characteristics:
Web Tool: Accessible from any platform, using a browser as a medium
Responsive Interface: All available functions on a single page
Unified Workspace: Different technologies managed in a single workspace
Simplified Editing: Easy to add and remove connections
Safety: Multi-user support with encrypted personal information
Interactive Tables: All functionalities use interactive tables, allowing copying and pasting in blocks
Smart SQL Editor: Contextual SQL code completion
Beautiful SQL Editor: You can choose from many available color themes
Tabbed SQL Editor: Easily add, rename or delete editor tabs
Technologies:
Supported Platforms:
Database Schema Management
OmniDB is designed for easy database management. Here are some features:
Tree view showing database structure
Powerful table creation

Editing capabilities:

Tables' names
Columns: name, type and nullable
Primary keys and respective columns
Foreign keys with either table and reference columns, including updating rules and removal as well
Indexes
Table editing: Edit table structure according to DBMS limitations
Data management: Add, edit and remove records
SQL Editing

Syntax highlighting for SQL
SQL code completion for table columns and subquery
Multiple themes to be selected
Support for external tools:
Other features:

Querying organized into tables
DDL commands execution
SQL history
Graphs displaying tables and their relations
Graphs displaying complete ER diagram
Visualization of explain plan
PL/pgSQL function debugger (requires a plugin, please see here)
OmniDB v2.16 releases.
Changelog
New features:

Monitoring Dashboard: Graph monitor unit type
Monitoring Dashboard: New standard units: TPS, WAL Production and Replication Graph
PostgreSQL TreeView: New groups for partitioned and inherited tables
PostgreSQL Debugger Plugin: Support for PostgreSQL running on OSX
Server: Support to run OmniDB on a custom URL path
Snippets: Run Snippet in Connection

Improvements:

UI usability:

Add Connection list in (+) menu of outer tabs
Show red X on tabs only on mouse hover
Color icons in Dark Theme
Release Notes outer tab now stay closed and only open upon next upgrade

Other improvements:

Included procedures in Advanced Object Search for PostgreSQL 11

Important changes:

PostgreSQL Debugger Plugin: Requires a host connection on all platforms

Deployment:

OmniDB server and PostgreSQL debugger plugin packages under Debian PGDG repository (thanks to Christoph Berg @df7cb )

Bug fixes: