Apache Qpid JMS 0.57 releases: Java Message Service
Apache
Qpid JMS is a use of Qpid Proton protocol engine Java Message Service client. Supports Advanced Message Queuing Protocol 1.0 (AMQP 1.0, ISO / IEC 19464, http://www.amqp.org) based on the Apache Qpid Proton protocol engine and implements the development of AMQP JMS mapping in OASIS.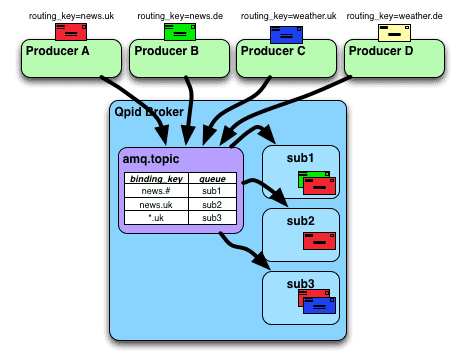 The 

Java Message Service

 (

JMS

) API is a Java Message Oriented Middleware (MOM) API

 for sending messages between two or more clients. It is an implementation to handle the Producer-consumer problem. JMS is a part of the Java Platform, Enterprise Edition, and is defined by a specification developed under the Java Community Process as JSR 914.

 It is a messaging standard that allows application components based on the Java Enterprise Edition (Java EE) to create, send, receive, and read messages. It allows the communication between different components of a 

distributed application

 to be loosely coupled, reliable, and asynchronous. __

Wiki
Feature
JMS 2.0 API
Secure communication via SSL and SASL
Producer flow control
Failover
Pure-Java implementation
Apache Qpid JMS 0.57 has been released.
Changelog
Bugs fixed
QPIDJMS-526 – fire ExceptionListener if consumer exists with MessageListener on remotely-closed Session
Tasks