Antix Linux is a fast, lightweight and easy to install systemd-free Linux live CD distribution based on Debian Stable for Intel-AMD x86 compatible systems. antiX offers users the "antiX Magic" in an environment suitable for old and new computers. So don't throw away that old computer yet! The goal of antiX is to provide a light, but fully functional and flexible free operating system for both newcomers and experienced users of Linux. It should run on most computers, ranging from 256MB old PIII systems with the pre-configured swap to the latest powerful boxes. 256MB RAM is recommended minimum for antiX. The installer needs minimum 2.7GB hard disk size. antiX can also be used as a fast-booting rescue cd. Special XFCE editions made in collaboration with the MEPIS Community called MX-15 "Fusion" (released 24 December 2015) and MX-14 "Symbiosis" (released March 24, 2014) are also available. antiX MX series has a separate development schedule to antiX.
antiX is a very flexible Linux distribution. You can run it live from a cd, live from a USB stick (with persistence ie changes are saved on reboot) as well as setting up a frugal-install from an internal or external hard drive. Of course, you can install to internal and external drives, sticks, cards etc. You can even run it live, add/remove applications, customize it, remaster it and then install. All your changes will carry over to install!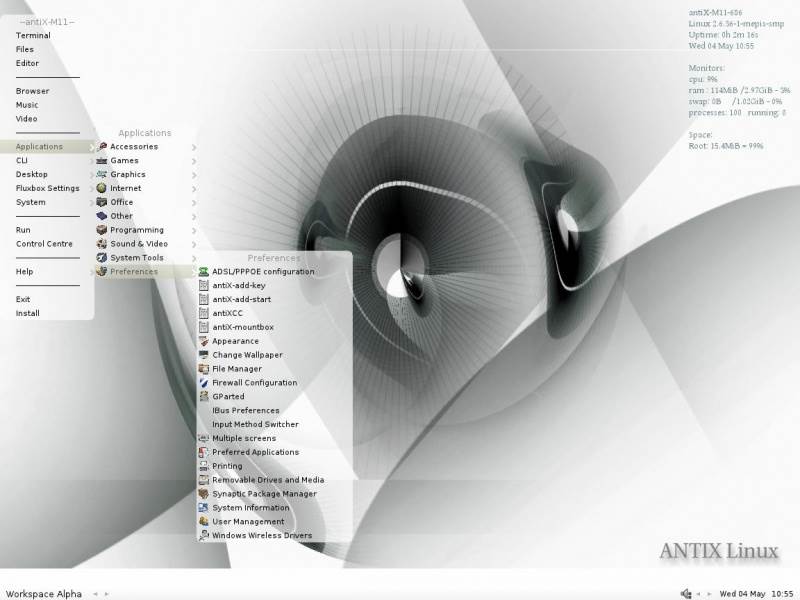 antiX Linux 17 has been officially released, code-named Heather Heyer.
antiX Linux 17 is based on Debian Stretch but does not use systemd and libsystemd0. In addition, the large number of software have been upgraded, including LibreOffice 5.2.7-1, firefox-esr 52.4.0esr, claws-mail 3.14.1-3 + b1 and so on. There are also updates worth noting:
* cli-aptiX – command line Synaptics
* live-kernel-updater – update kernel when running live
* lxkeymap – gui to set system localization
* fskbsetting – gui to set live localization
* backlight-brightness – useful tool for laptops
* antiX-cli- cc – command line control center
Complete update content Click here to view.